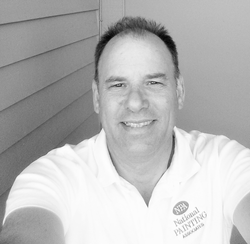 Welcome!
First of all Thank You very much for taking time out to take a look at our company for your paint project. I am very experienced in the field of painting for I have been doing it a long time. My father and his father were also involved in the painting industry. Back in those days the painting approach for preparing a house for paint was completely different, there were no pressure washers and we used blow torches to remove old peeling paint. I still shake my head thinking about an open torch. Today we use safer methods for removing old paint when preparing a home for paint. like pressure washing, scraping and sanding. The paints today also are safer as there is no lead in them and the EPA has restrictions on the amount of VOC

(volatile organic compound)

in a can of paint. These are man-made and naturally occurring chemical compounds where the vapors are not healthy for human health or the environment.



National Painting is a family owned company and most of the crews have been with us for 18 years, they are family to us also. Every one of them have been trained by me personally and they are excellent. Every house we paint is treated differently, the preparation methods are similar but product application and type of product various from one project to the next. Our goal is to give our customers the longest lasting paint coating possible on their home. Coupled with good communication between our customers, paint crews and the company, and having professionally trained, skilled and caring painters, we achieve that result. Please check out the gallery and notice how good these homes look and when they were last painted. Please feel free to ask us for the address and you can go observe for yourself. Thank you for your time.

Paul C Strickler
Principal National Painting Associates Inc.



---